Why Cambridge?
Cambridge Assessment International Education is a part of University of Cambridge and it prepares school students for life, helping them develop an informed curiosity and a lasting
passion for learning.
International qualifications by Cambridge are recognised by the world's best universities and employers, giving students a wide range of options in their education and career. As a not-for-profit organisation, Cambridge devotes its resources to delivering high-quality educational programmes that can unlock learners' potential.
Cambridge programmes and qualifications set the global standard for international education. They are created by subject experts, rooted in academic rigour and reflect the latest educational research.
Cambridge pathway
Cambridge Pathway is for students aged 5 to 19. Its wide range of subjects and flexibility gives schools the chance to shape the curriculum so that it is exciting and relevant for their own students.
Cambridge Pathway students have the chance to acquire the knowledge and skills they need to achieve at school, university and beyond.
The four stages lead seamlessly from primary to secondary and pre-university years.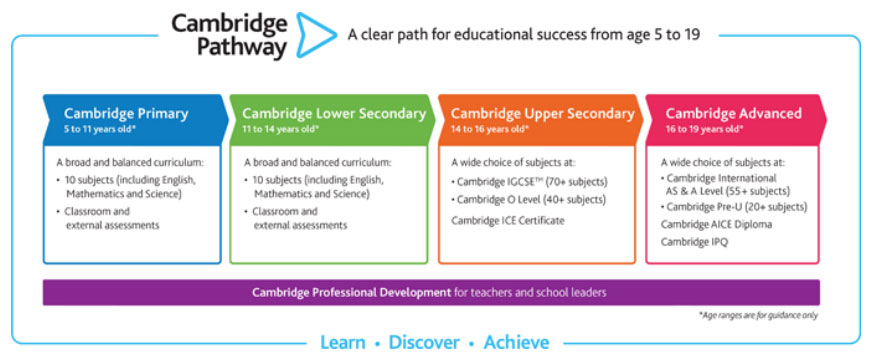 Cambridge Primary
Cambridge Primary is an exciting educational journey typically for 5 to 11 year olds. At STWS, we develop our learners' skills and understanding through the primary years in First Language English, Mathematics, Science, Global Perspectives, ICT Starters and French. It is designed to help schools deliver a broad and balanced curriculum that suits their context, culture and ethos.The curriculum sets clear learning objectives and focuses on developing knowledge and skills in all subjects, providing excellent foundations for the next stage of education.
Cambridge Lower Secondary
Cambridge Lower Secondary is typically for learners aged 11 to 14 years. The programme provides a natural progression for children from primary education and prepares them for post-14 education programmes that lead to formal qualifications.

The curriculum sets clear learning objectives and focuses on developing knowledge and skills in First Language English, Mathematics, Science, Global Perspectives, ICT, French, providing excellent foundations for the next stage of education.
Cambridge Upper Secondary
Cambridge Upper Secondary is typically for learners aged 14 to 16 years and builds on the foundations of Cambridge Lower Secondary. It offers learners two routes: Cambridge IGCSE and Cambridge O Level. At STWS, Cambridge IGCSE will be offered.
Cambridge IGCSE offers a flexible and stimulating curriculum, supported with excellent resources and training.
For learners, Cambridge IGCSE helps improve performance by developing skills in creative thinking, enquiry and problem solving. It is the perfect springboard to advanced study.
There are over 70 subjects available at Cambridge IGCSE, including 30 languages, and schools can offer them in any combination. Cambridge IGCSE develops learner knowledge, understanding and skills in:
• Subject content
• Applying knowledge and understanding to new as well as familiar situations
• Intellectual enquiry
• Flexibility and responsiveness to change
• Working and communicating in English
• Influencing outcomes
• Cultural awareness.
Cambridge learner attributes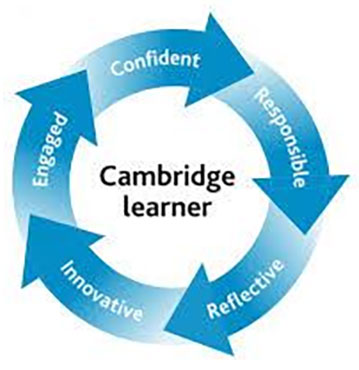 Cambridge programmes help schools to develop Cambridge students who are:
Confident in working with information and ideas – their own and those of others
Cambridge students are confident, secure in their knowledge, unwilling to take things for granted and ready to take intellectual risks. They are keen to explore and evaluate ideas and arguments in a structured, critical and analytical way. They are able to communicate and defend views and opinions as well as respect those of others.
Responsible for themselves, responsive to and respectful of others
Cambridge students take ownership of their learning, set targets and insist on intellectual integrity. They are collaborative and supportive. They understand that their actions have impacts on others and on the environment. They appreciate the importance of culture, context and community.
Reflective as learners, developing their ability to learn
Cambridge students understand themselves as learners. They are concerned with the processes as well as the products of their learning and develop the awareness and strategies to be lifelong learners.
Innovative and equipped for new and future challenges
Cambridge students welcome new challenges and meet them resourcefully, creatively and imaginatively. They are capable of applying their knowledge and understanding to solve new and unfamiliar problems. They can adapt flexibly to new situations requiring new ways of thinking.
Engaged intellectually and socially, ready to make a difference
Cambridge students are alive with curiosity, embody a spirit of enquiry and want to dig more deeply. They are keen to learn new skills and are receptive to new ideas. They work well independently but also with others. They are equipped to participate constructively in society and the economy – locally, ationally and globally.